ANSWER TO QUESTION 161:
161. c. Bunny Blaney

161. Name this Coaldale native who moved from Coaldale to Delaware in the 8th grade, was a great football and basketball player and trackman, became Delaware's Athlete of the Year in 1950, and was inducted into the Delaware Sports Hall of Fame in 1981 and into the Delaware Track & Field Hall of Fame in 2002. (Note: This photo was taken sometime within the past 15 years.)

a. Buzzy Barron, b. Buckets Botek, c. Bunny Blaney, d. Bucky Butts.

ANSWER TO QUESTION 160:
160. Buzz Flanagan & Stan Giltner.

160. Here is a picture of The Atlas Powder Company baseball team from 1919. Two of the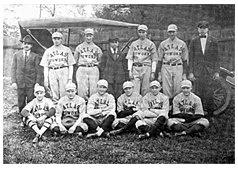 players also played on the legendary Coaldale "Big Green" football team. Can you identify the two guys?

Sitting (L to R): Gick Tracy; Buzz Flanagan; Doherty; Stan Giltner; T.C. Mattern; and Howard Furn. Standing (L to R): Cap Christ, Burke, Mathers, Tony Santo, McQuaide, Fred Downs, and Alan Krapf.

ANSWER TO QUESTION 159:
159. General Patton's nickname was "Old Blood and Guts." If you'd like more info about Coaldale's memorials to veterans and women, please see:
veterans_2nd_phase.html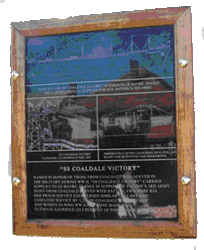 159. This is a photo of the black granite plaque that depicts the ship SS CoaldaleVictory. The plaque is mounted alongside the Iwo Jima mural in Coaldale. The ship, named in honor of those from Coaldale who served in the military during World War II, was launched in February, 1945, and carried supplies in support of the Third Army, which was commanded by General George S. Patton. Several men from Coaldale served in the Third Army. What was General Patton's nickname?



a. The Desert Fox
b. Old Blood and Guts
c. Old Hickory
d. Stonewall
e. Unconditional Surrender


Note: Donations to the Coaldale war memorials may be sent to: World War II Veterans Memorial Fund, C/O Coaldale Borough, P.S. Box 116, Coaldale, Pa. 18218

ANSWER TO QUESTION 158:
158. Frank Yurkovich and Jack Malarkey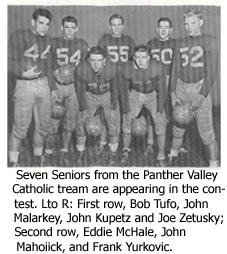 158. This is a picture of the Panther Valley Catholic seniors who played in the 1950 Anthracite All-Star Game. Number 44 is Bob Tufo, 54 is Eddie McHale, 55 is John Maholick, 50 is Frank Yurkovich, 52 is Joe Zetusky, 29 is John "Jack" Malarkey, and 31 is John Kupetz. As far as we know, at least two of these guys are Coaldale natives. Name them.
ANSWER TO QUESTION 157:
157. (1) dance, (2) pants, (3) pants, (4) dance, (5) pants

157. This photo, which is compliments of Bill Gaddes (CHS '48), is of a painting of the Number 8 Breaker that was painted by artist William Scott, who was Administrator of the Coaldale State Hospital circa 1952. As you know, the miners who worked at Number 8 loved their polkas. See if you can fill in the blanks to this popular polka titled "Johnny Live in Coaltown."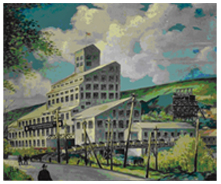 Johnny live in Coaltown


He have big date for (1) _____


Sit on chair in kitchen


Nail rip his (2) _____


He must get it patchin'


He show his mom and pop


They all started laughin'


He think they never stop

Laughin', Laughin' 'cause Johnny ripped his (3) _____


Laughin', Laughin' now he can't go for (4) _____


Laughin', Laugnin', 'cause Johnny's (5) _____ was tore


Then everys buddys laugh, ho, ho


Then they laugh some more.

ANSWER TO QUESTION 156:
156. Merchants, Seek, and Tigers

156. The young gentleman mugging for the camera in this 1958 photo is Bob "Bogie" Griffith. The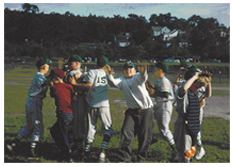 team celebrating with Bogie at the East End Field in Coaldale is the "Colts," which was one of the first four teams in Coaldale's first baseball little league that was officially sanctioned by the national Little League organization in Williamsport, PA. From the following list, choose the names of the other three Coaldale little league teams in 1958: Angels, Bengals, Crusaders, Giants, Merchants, Mustangs, Panthers, Pistons, Ponies, Saints, Seek, and Tigers.

ANSWER TO QUESTION 155:
155. 1=c, 2=a, 3=d, 4=b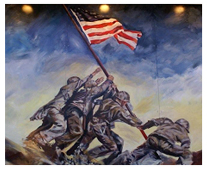 155. The Iwo Jima Memorial (see photo) near the Coaldale Town Hall was dedicated in 2007 in memory of four Coaldale Marines: 1. Private First Class John Katchak, 2. Sergeant George Lutchkus, 3. Colonel Andy Hedash, and 4. Colonel Bob Stoffey. Match the statements below with the names of these military heroes from Coaldale.



a. He earned a Navy Cross, two Silver Stars, and two Purple Hearts during the WWII Battle of Iwo Jima which took place between February 19, 1945, and March 26, 1945. Three years earlier during the Battle of Guadalcanal (August 7, 1942, thru February 9, 1943), he was left for dead but was found alive by a Marine Corps graves detail. After being in a coma for three months he insisted on returning to combat.



b. He is Coaldale's most highly-decorated military hero. He flew 440 combat missions in Vietnam in Cobras and OV-10 Broncos, and he is the author of "Cleared Hot!: A Marine Combat Pilot's Vietnam Diary" and "Fighting to Leave: The Final Years of America's War in Vietnam."



c. He was the first Marine killed in action on Wake Island in the WWII Battle of Wake Island which began simultaneously with the attack on Pearl Harbor on December 7, 1941, and ended on December 23, 1941.



d. He was the commanding officer of the Marines who raised the second and larger flag atop Mount Suribachi following the WWII Battle of Iwo Jima on March 26, 1945.



Note: Donations to the Coaldale war memorials may be sent to: World War II Veterans Memorial Fund, C/O Coaldale Borough, P.S. Box 116, Coaldale, Pa. 18218


ANSWER TO QUESTION 154:
154. 1=c, 2=d, 3=b, 4=e, 5=g, 6=a, 7=f

154. When the founding fathers and mothers of Coaldale assigned names to the streets of Coaldale (see map), they were very creative in naming some of the streets. For example, Moser Avenue presumably was named after first resident John Moser, and Bull Run Street in Seek presumably was named after the U.S. Civil War Battle of Bull Run. However, the founders' imagination seems to have faltered when they named the primary north-south streets, i.e., First Street, Second Street, etc. You must admit that the names of those streets are pretty bland. Therefore, we have taken it upon ourselves to propose new names for those streets based upon culturally significant individuals, places, or events that are associated with each of those streets. See if you can match the current name/number of the street in Row A with our suggested street names in Column B.



ROW A: 1. First Street, 2. Second Street, 3. Third Street, 4. Fourth Street, 5. Fifth Street, 6. Sixth Street, 7. Seventh Street



COLUMN B:


a. Gigi's Pass or Trudich Terrace or Buffy's Boulevard or Yez Chezway.


b. Abie Schonberger Avenue or Hosie Highway or Ernie Sandri Expressway.


c. Fedora Freeway or Puschak Parkway or Russian Club Road.


d. Super O'Brien Superhighway or Halupki House Highway or McCartney's Motorway or Tom Raymer Turnpike.


e. Juggy Weiksner Way or Wargo's Way or Harold's Highway.


f. Manila Grove Access Road or Great Wall of Seek Way or Klines Hill Entryway.


g. Butts Brothers Boulevard or Litz Club Lane or PatRo's Place.


Note: If you can come up with some other street names that may be more creative than ours, please let us know and we'll post them next week with the answers to this question.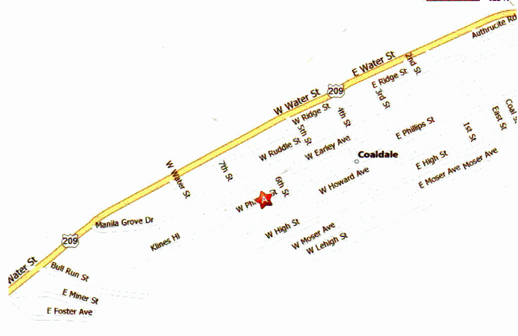 ANSWER TO QUESTION 153:
153. Near St. Mary's Church.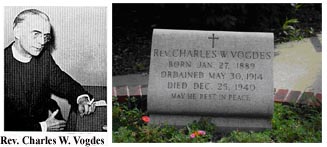 153. Rev. Charles W. Vogdes is, as far as we know, the only person to be buried within the Coaldale town limits. Where is his grave located?

ANSWER TO QUESTION 152:
152. (1) Can, (2) Mad, (3) Guy, (4) Puffin', (5) Loony, (6) Nut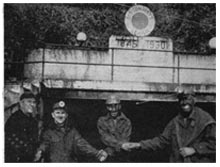 152. On February 26, 1960, Coaldale's Number 8 Mine closed permanently. The last miners up from the mine were (left to right) John Sentiwany of McAdoo, Eddie Bucaravage of Coaldale, Charlie Buzik of Summit Hill, and Mike Vitek of Lansford. In the years prior to 1960, the miners at number 8 went out on several strikes, and these strikes were immortalized by a singing group known as The Shoreliners in their popular song titled The U-Nee Man Polka. Here are a few verses of that song. See if you can fill in the blanks.


U-Nee Man, U-Nee Man
He Must Have Full Dinner (1) ___
A.F.L., C.I.O.
Callin' Strike and Home We Go,

Hey, Hey, Domo, Domo,
Domo, Domo, Let's Go Domo.
Hey, Hey, Domo, Domo,
Let's Go Home.

We No Got Contract, She Expire
U-Nee Boss, He (2) ___ Like Fire
Miners Strikin' Too Much Times,
Uncle Sam Take Over Mines.

Contract miner dig for coal
Every day must go down hole
Someting happen he don't like
Have big meeting callin' strike

Treasure Man, He Big Fat (3) ___,
Eatin', Eatin', Don't Know Why
He Keep U-Nee Dues For Books,
No One Knows How Much He Tooks.

Secretary, Big Mustache,
Wonder Where He Get Dat Cash.
Drinkin', Drinkin' At The Bar,
(4) ____ On His Big Cigar.

People Think That I Am (5) ___,
Sing Dis Song About The U-Nee.
Some One Say, Who Is Dat (6) ___?
Better Keep His Big Mouth Shut.

Hey, Hey, Domo, Domo,
Domo, Domo, Let's Go Domo.
Hey, Hey, Domo, Domo,
Let's Go Home.

ANSWER TO QUESTION 151:
a. Burns' Hall (which in later years was known as Puschak's Bar).
151. Here are two pictures of the same structure. The old picture is of the inside of the place as it looked around the year 1900; the other picture is of the outside of the building and was taken in 2008. It is located on First Street in Coaldale and was used for weddings, banquets, and even school graduations before the Coaldale High School was built. What is the name of this iconic Coaldale establishment?


A) K of C Hall B) Burns' Hall C) AOH Lodge #8 D) Boyle's Banquet Hall E) Johnny Mitchell Auditorium F) Coaldale Town Hall G) Joe Skinky's

ANSWER TO QUESTION 150:
150. c. Bill "Angel" Donovan. (Thanks to Bob Sharpe for contributing the photo/question.)
150. This young fellow is showing off his ball-handling skills at Dorney Park in June 1959 as part of th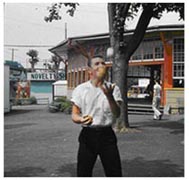 the year-end trip with St. Mary's School. He had just graduated from St. Mary's and was preparing to enter Marian High in the fall. Over the next 4 years he demonstrated much greater ball-handling skills on the baseball diamond, basketball court, and especially the gridiron of Marian. His quarterbacking skills gave Marian many winning seasons and eventually took him to Boston College. What is his name?


a. Dave Lewis b. Bob Keefer c. Bill "Angel" Donovan d. Charlie Keer

ANSWER TO QUESTION 149:
149. Wilbur Berger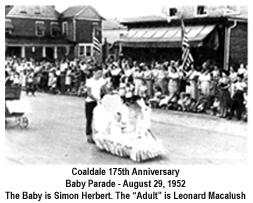 149. In this picture of the Baby Parade in Coaldale in 1952, there is a house on the far left. What well-known Coaldale high school official lived in that house in the 50s/60s?
ANSWER TO QUESTION 148:
148. Louie Nesterak and John Blasko.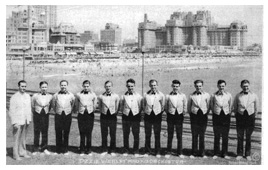 148. The Os Werley Dance Band played at the Million Dollar Pier at Atlantic City in 1936. Os was from Tamaqua and two members of his band were from Coaldale. Left to right in the photo are Os Werley, Louie Nesterak, Charley Artz, Raymond Whetstone, Andy Zulick, Paul Oriel, Hayden W. Evans, Max Richards, John Blasko, John Lindemann, and Hawley Henry. Which two of these guys were from Coaldale?
ANSWER TO QUESTION 147:
147. Left to right: J. B. Warner, Thomas Evans, William Evans, Harry Evans (three brothers who had a total of 150 years in the mines) and Evan Evans.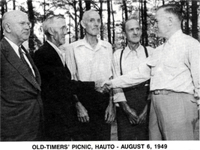 147 In this picture of the Old Timers' Picnic, four of the five men are named "Evans." Which one is not an "Evans?" Extra credit: name as many of the men as you can.
ANSWER TO QUESTION 146:
146. A. Donald Boyle. A&P = Atlantic & Pacific.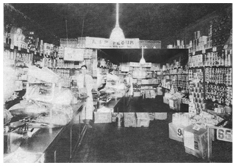 146. In this old picture of the Coaldale A&P grocery story, the manager can be seen. Select the name of the manager: A. Donald Boyle B. John Boyle C. Maxie Cullen D. Harry Hoben. Bonus question: What did the letters A&P stand for?
ANSWER TO QUESTION 145:
145. Ken Hoffman and George Hoffman

145. The first two guys with mustaches are Coaldale's very first set of twins, John and Frank Barrett, sons of Mary Moser, who was the daughter of Coaldale founder John Moser. The next two guys are the very last set of twins to graduate from CHS. Name them. Hint: One was a left-handed quarterback and one was a right-handed quarterback for the Coaldale Football Tigers during the very last football season at CHS in 1963.

ANSWER TO QUESTION 144:
144. 1=d, 2=h, 3=f, 4=c, 5=i, 6=a, 7=j, 8=k, 9=b, 10=e, 11=g

144. This a photo of Shigo's Market in Coaldale. We have been unable to determine the exact location in Coaldale of Shigo's Market or the year this photo was taken, but we did find (in the backs of the '34 and '35 Stentors) some information related to other Coaldale businesses. See if you can match the businesses on the left with their advertising slogans on the right.

ANSWER TO QUESTION 143:
143. Madame de Pompadour, the mistress of King Louis XIV of France.

143. The style of haircut know as a "pompadour" was a fashion trend in the 1950s/1960s among artists and actors like Elvis Presley, Johnny Cash, Little Richard, and Marlon Brando, as well as among the CHS students shown here. From whom did the pompadour style of haircut take its name?

ANSWER TO QUESTION 142:
142. Ed "Finky" Shubeck.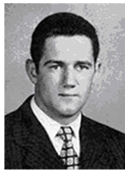 142. Name this Coaldale Tiger. Hints: He was a four-year gridiron performer for the Tigers, playing tackle and fullback, and a four-sport star, also playing basketball, running track, and playing Legion baseball. He played football at, and graduated in 1955 from, George Washington University. In 2002, he was inducted into the Carbon County Area Chapter of the Pennsylvania Sports Hall of Fame. He won the Panther Valley football scoring title after rushing for 3 touchdowns in the 1950 Coaldale-Lansford game, which you may view here:

ANSWER TO QUESTION 141:
141. a. Gettysburg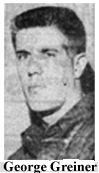 141. George Greiner was the head football, basketball, and baseball coach at CHS during the 1959 school year. At which Pennsylvania college did he earn Little All-American honors as a halfback? a. Gettysburg b. Kutztown c. Millersville d. Penn State
ANSWER TO QUESTION 140:
140. "Pop" Miller.

140. The following three men served the Victory Band in various capacities: William Miller, "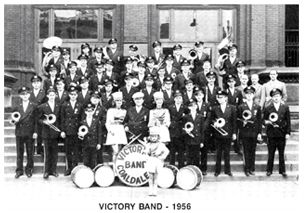 "Pop" Miller, and Paul Bartal. Which one was the Director of the Victory Band when this picture was taken in 1956?
ANSWER TO QUESTION 139:
139. Foag Gallagher

139. In this photo taken in the 1950s on the Coaldale football field, John L. Lewis, President of the U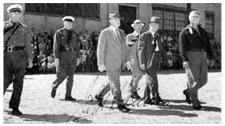 United Mine Workers of America, was being escorted by Coaldale policeman Wesley Eames (second from left) and Chief of Police, Ben Herring, who is on the left. Ben Herring played football for the Coaldale Big Green. Name one other Coaldale gent who also served the town of Coaldale as both Chief of Police and as a member of the champion Big Green football team.
ANSWER TO QUESTION 138: The guys in Trio B (Eddie Haskell, Beaver Cleaver, and Wally Cleaver) are not from Coaldale. Trio A = Bill Berry (CHS '49), George McCartney (CHS '51), and George Welsh (CHS '51). Trio C = Martin Kodlick (CHS '64), George Priggins (CHS'64), and Sammy Watkins (CHS '64). Trio D = Kathy Lotwick (PHVS '65), Lillian Mongi (PVHS '65), and Edna Davies (CHS '64). Thanks to Jim McCartney for the photo of Trio A and Judy Trubilla Kisailus for the photo of Trio B.
138. Which one of these trios is not from Coaldale?
ANSWER TO QUESTION 137:
137. Hello There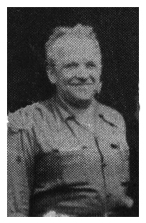 137. Phil Domin, who worked for the Lehigh Navigation & Coal Company, was one of Coaldale's most friendly, beloved and outgoing characters. In the 1950s he owned a pale blue '50 Mercury that he used to drive around town with the window open, and he would greet everyone he passed with a loud and memorable greeting. What was Phil's signature greeting?

a. Beat Lansy.

b. Hello There.

c. Hiya Kids

d. Hey, Hey, Domo, Domo, Domo, Domo, Let's Go Domo.
ANSWER TO QUESTION 136:
136. B. Ervin Murphy

136. In this picture from 1941, John Williams is presenting the title to a new Fire Engine to the Fire Chief. Name the Fire Chief:

A. Lenny Zummers

B. Ervin Murphy

C. Boober Craig

D. Walter Evans

ANSWER TO QUESTION 135:
135. "Bucky" Butts. Brothers: "Rakey" Butts & "Dinty" Butts. Father: "Turkey" Butts.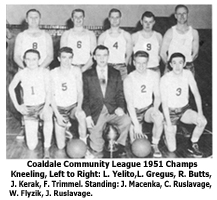 135. In the middle of the first row, R. Butts is pictured. What was his nickname? Bonus question: What nicknames did his two brothers have? Extra Bonus: What was his Dad's nickname?
ANSWER TO QUESTION 134:
Pete "Calhoun" Radocha

134. Name this Coaldale native.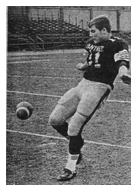 Hints: In the 1950s, his Dad's business sponsored a Coaldale baseball team named "Pat's Pistons." In the 1970s, he represented Panther Valley High School in the prestigious Big 33 Football game, and his first cousin is the only Coaldale Tiger ever to play in the Big 33 game. While at Panther Valley HS, he played quarterback, fullback, halfback, safety, linebacker, offensive end, kicker, and punter, and he was selected as a defensive back on the Associated Press All-State Football team. He started for three years on the PV basketball team, for four years on the PV baseball team, and at the time had won more awards than any other athlete in PV history. He graduated from East Stroudsburg University, where he started and played a significant role on both offense and defense on the football team which was undefeated for two consecutive seasons in the 1970s.

ANSWER TO QUESTION 133:
133. Andy Yarosky (inducted in 2006) and Steve Martinec (inducted in 1992).
See: coaldalehighalumni.- history
133. This picture is titled "Coaldale Ball Club – Circa 1945." Upon reviewing the names of the players, we discovered that the guys on this team are almost exactly the same guys we identified in the answer to Quick Quiz Question #112 as the "Coaldale Black Sox," although some of their names are spelled slightly differently and we can't confirm that this is actually the same team. Name the two of the members of this team who have been inducted into the Carbon County Area Chapter of the Pennsylvania Sports Hall of Fame.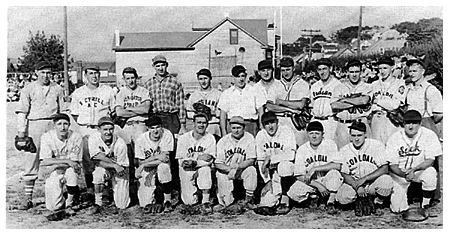 First row (L to R): E. Salvadore, S. Slaby, M. Harbolovic, J. Klapac, J. Popik, A. Zummers, S. Hedash, T. Heisler, S. Martinec. Second row: D. Bowden, A. Sotak, E. Sneddon, H. Schneider, S. Polansky, Manager: G. McIntyre, J. Macenka, M. Welsh, L. Snyder, C. Mock, L. Yelito, E. Marasiak. (Team member missing from photo: A. Yarosky)

ANSWER TO QUESTION 132:
132. Top row: Bill Scutta, Bob Urban. Bottom row: Jerry McGeehan, and Bernie Arner.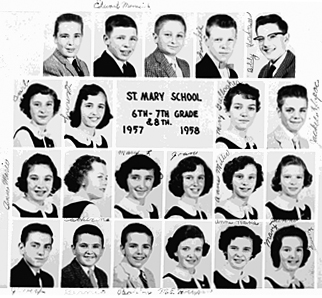 132. In the 1950's, St. Mary's grade school had only three teachers for all eight grades. There was a 1st, 2nd, & 3rd grade room, a 4th & 5th grade room, and a 6th, 7th, & 8th grade room. This is a picture of the kids in grades six through eight for the 1956-1957 school year. Four of these kids left St. Mary's to attend Coaldale High School? Can you name them?

Hint: Two of them are in the top row and two are in the bottom row. Their initials, in order, are BS, BU, JM, and BA.

ANSWER TO QUESTION 131:
131. Steve Martinec.

131. Name this all-around athlete from Coaldale.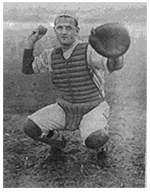 Hint: He starred as a halfback/punter for the 1932 Susquehanna University undefeated football team. During his four college years, he lettered in football, basketball, track, and baseball, and in 1935, his senior year, he was selected as the university's outstanding athlete. Following graduation, he returned to CHS as a faculty member and for a number of years coached football, basketball, and track. During World War II, he served our country in the European Theater as a Captain in the U.S. Army. He was inducted into the Susquehanna University Hall of Fame in 1967, he taught Physics and Science at CHS until it closed, and he later served as the Principal of Panther Valley High School.

ANSWER TO QUESTION 130:
130. Left to right: Maggie A. Bonner, Mary Hoben, Nellie Eckhart, Cathryn Dolan.

130. Match the names and statements with the photos of these Coaldale women.


A. Mary Hoben - She graduated from St. Mary's High in Coaldale, and became President of Immaculata College.
B. Cathryn Dolan – She was a Penn State graduate who taught English, Latin, and Spanish at CHS.
C. Maggie A. Bonner - She was an English teacher at CHS in the 1930s.
D. Nellie Eckhart – She was a member of the CHS girls basketball team which won the Carbon-Schuylkill County championship in 1926 and later became Head Nurse at CHS.

ANSWER TO QUESTION 129:
129. d. Jordan Brothers. (Thanks to Bob Sharpe for providing the photo of the Jordan Brothers and the idea for this quiz question).

129. In the '50s and '60s Coaldale students attended many dances. Some of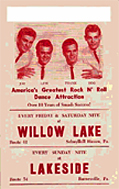 the dances featured many of the great live bands at places like Willow Lake and Lakeside. Here is a picture of a group that many folks loved. What is the band's name?
a. Shantones


b. Coasters

c. Bel-Rays


d. Jordan Brothers


e. Hootie and the Blowfish

ANSWER TO QUESTION 128:
128. Mr. Keebler wrote the lyrics and Mr. Horn composed the music for both the Coaldale Alma Mater and the Spirit of Coaldale High pep song. We believe Mr. Matrician wrote/composed The Coaldale Shuffle and I'm Dreaming of a Black Christmas.

128.
Mr. Oscar S. Keebler (left) was an English teacher at CHS. Mr. John J. Horn (center) and Mr. George Matrician (right) were Music teachers and band directors. Which of these gentlemen composed the following songs: (1) The Coaldale Shuffle, (2) The Coaldale Alma Mater, (3) The pep song titled Spirit of Coaldale High, and (4) I'm Dreaming of a Black Christmas?

ANSWER TO QUESTION 127:
127. Renai and Connie Sharpe. Cheerleaders (L to R): Renai Sharpe, Anita Aransky, Anastasia Bybel, M.A. Kern, Andrea Surotchak, M.L. Petrie, Sandy Edwards, Sally Korsak. Majorettes (L to R): Rose Marie Ketz, Connie Sharpe, J. Hoffman, Sue Parfitt, G. Schneider, Sandy Fetsurka, Diane Cipko.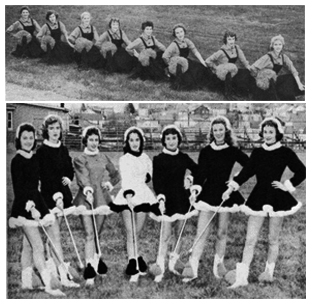 127. These young women were the CHS cheerleaders and majorettes during the 1958 football season.

One of the cheerleaders is the sister of one of the majorettes. Name the sisters.
ANSWER TO QUESTION 126:
126. The "Shippers" were Blythe Township and Hazle Township. The Wildcats were West Hazleton and Kulpmont. In 1952, Coaldale beat one of the "Shippers" -- Blythe and one of the "Wildcats" -- Kulpmont.

126. These guys are the seniors and coaches for the 1952 Coaldale Tigers football team. According to the 1953 Stentor, Coaldale played two teams called the "Shippers" and two teams named the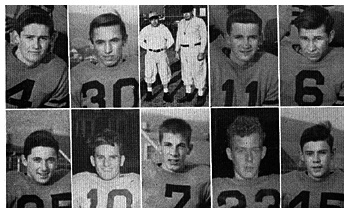 "Wildcats." In their senior season (4 wins and 7 losses) these were the eleven foes: Blythe Twp., Summit Hill, West Hazleton, Tamaqua, McAdoo, Hazle Township, Nesquehoning, Mahanoy City, Kulpmont, Minersville, and Lansford.


Which two of those teams were called the "Shippers" and which two were called the "Wildcats." If you pick Lansford for either of these, you must return your CHS diploma.


Top row (L to R): Ron "Poochy" Richards, John Mateyak, Coach Andy Kalen, Coach Wilbur Berger, Ron Drosdak, Bernard Serina.
Bottom row: Robert Lore, Ziggy Karpa, Richard Holp, Robert Duval, Dick McIntyre.

ANSWER TO QUESTION 125:
125. According to wikipedia: "The term (crew cut) was most likely coined to describe the haircut worn by members of the Yale rowing crew."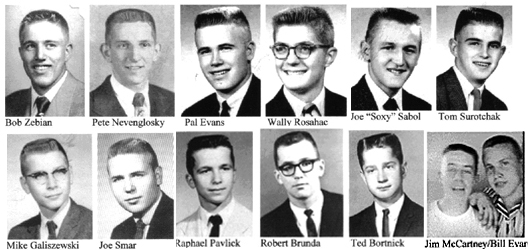 125. Each of these Coaldale Tigers sported a "crew cut" during his high school days. Why is it called a "crew cut"?
ANSWER TO QUESTION 124:
124. C. James Roarity, who was Coaldale's "Bodymaster," i.e., the leader of Coaldale's branch of the Mollies. See:
List of Molly Maguires from Pinkerton & Reading Railroad Filesww.rootsweb.
124. This drawing depicts the march to the gallows at Pottsville on "The Day of the Rope," June 21,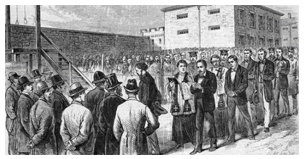 1877. This was the day that ten Molly Maguires were hanged: four in Mauch Chunk and six in Pottsville. One of the men hanged in Pottsville was from Coaldale. Here are the names of five Mollies from Coaldale; which one was hanged for allegedly supplying the gun that killed policeman Benjamin F. Yost in Tamaqua on July 6, 1875?


A. Patrick Bonner B. James Gallagher C. James Roarity D. John Gallagher E. Joe McGehan

ANSWER TO QUESTION 123:
123. Joe Laigon. See: Fosters Mine Diaster


123. In 1915, these 11 coal miners from Coaldale were trapped inside Foster's Tunnel, the closed entrance of which is shown in the recent photo on the right.

Two of the miners, George "Gint" Hollywood and William "Kaska Bill" Watkins, were rescued after spending 22 hours underground. The other nine, who were miraculously rescued six days later thanks to the efforts of over 150 rescue workers, are: John Bonner, Joseph Murphy, Elmer Herring, Charles Matakus, John McAndrews, Dominick Holchek, Peter Leunick, Joe Laigon, and Mike Gotardi. Which of these gentlemen later ran a small store on Phillips Street and was the father of a prominent Coaldale doctor?

ANSWER TO QUESTION 122:
122. Centreville was located in the southeastern outskirts of Coaldale, was later evacuated because of mining underneath, and was also know as: c. Skintown.
See the History of Coaldale
122. Michael "Mike the Bear Man" Kukec and his wife Appolina lived in the Centreville section of Coaldale in the 1920s.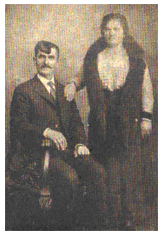 According to an old issue of The Valley Gazette, Mike "had a small store and huckster business" in Centreville, and he "installed on his property an outdoor bowling alley, the surface of which was made of compacted clay and animal blood." Mike also built above his back gate a bear trap loaded with rocks and iron scraps intended to fall on any bear who entered uninvited through the gate. One day while Mike was testing the trap, the rocks and iron fell on him, knocking him out cold, and from that day forward he reportedly became known to the citizens of Coaldale as "Mike the Bear Man." The question is: What was another name for the Centreville section of Coaldale?


a. Buck Mountain.......b. Gearytown.......c. Skintown......d. Bugtown......e. Manila Grove Park

ANSWER TO QUESTION 121:
121. Joe "Oscar" Ozefovich, Bob Scutta, Jake Flyzik, and John "Herman" Horoschak. See:Class_of_1956_1955_Football.html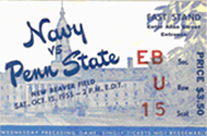 121. This is a ticket from the Navy versus Penn State game in October, 1955. Quarterback George Welsh led Navy to 34-24 victory that day over the Nittany Lions, who were coached by the legendary Charles A. "Rip" Engle. On the same day that this game was being played, the Coaldale Tigers were in the midst of a very respectable 6-3-1 season which included a 50-0 thrashing of Blythe Township, a 40-0 victory over Summit Hill, and a 13-0 win over arch-rival Lansford. Name the Tigers' starting backfield for that year. Hint: Their initials are: J.O., B.S., J.F., and J.H.
ANSWER TO QUESTION 120:
120. Ben Williams.

120. This is the 1935 CHS baseball team. Which of these players later owned and ran a successful gas station business on "the highway" in Coaldale?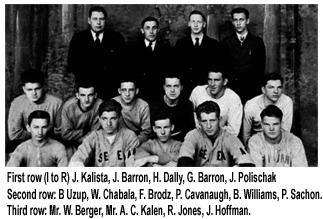 ANSWER TO QUESTION 119:
119. e. Johnny Cash. See:Ballad of Ira Hayes

119. Coaldale's Andrew Hedash, Captain, U.S. Marine Corps, commanded the Marines who raised the American flag atop Mount Suribachi on the island of Iwo Jima in World War II. Andy's CHS Class of '34 photo is shown here to the left of the famous flag-raising photo. To the right is a photo of Ira Hayes, one of the five Marines who actually raised the flag on Iwo Jima. Who sang the song titled "The Ballad of Ira Hayes"?



a. The Shantones
b. The Jordan Brothers
c. The King Brothers
d. The Coaldale Victory Band
e. Johnny Cash

ANSWER TO QUESTION 118:
118. Statements a and b each contain a malapropism.

118. Those of you who had the opportunity to be a CHS student of Mr. Michael Polansky will remember what a great and gregarious teacher he was, but let's see if you remember what he taught you in English class about Mrs. Malaprop and her "malapropisms."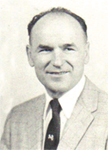 Mrs. Malaprop was a character in a 1775 play named "The Rivals," and when she spoke she frequently used incorrect words which meant something totally different from what she really had intended to say. Thus, as Mr. Polansky taught us, a malapropism is "the incorrect use of a word by substituting a similar-sounding word with different meaning, usually with comic effect." Which of the following statements contain a malapropism?


a. Archie Bunker: "What do I look like, an inferior decorator?"


b. Yogi Berra: "He hits from both sides of the plate. He's amphibious."


c. Yogi Berra: "It is so crowded that nobody goes there anymore."


d. Casey Stengel: "All right everyone, line up alphabetically according to your height."

ANSWER TO QUESTION 117:
117. e. Dolph Tokarczyk

117. Name this Coaldale Tiger who starred on the gridiron for the Tigers and for the University of Pennsylvania and was then drafted by the Chicago Bears.

a. Charlie Berry

b. Charlie Hontz

c. Charlie Ruslavage

d. Charlie Zlock

e. Dolph Tokarczyk

ANSWER TO QUESTION 116:
116. d. In the same Springfield, Illinois, cemetery as President Abraham Lincoln.

116. John L. Lewis, President of the United Mine Workers of America (UMWA) from 1920 to 1960 and founder of the Congress of Industrial Organizations (CIO), visited the Coaldale football field in the 1950s. Some of the Coaldale residents surrounding John L. in this photo include Si Schonberger (holding a camera), Willie Orledge (in the hat), Joe Lakata (holding his daughter Mary Ellen), and Helen Lakata (wearing sunglasses).


John Lewis died in 1969. Where is he buried?
a. Summit Hill Cemetery

b. St. Jerome's Cemetery in Tamaqua

c. Owl Creek Cemetery

d. In the same Springfield, Illinois, cemetery as President Abraham Lincoln.

ANSWER TO QUESTION 115:
115. Both a and c.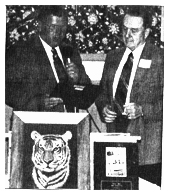 115. Stan Dakosty, head football coach at Marian High School, is shown here in 1995 presenting to legendary CHS Football Coach Geno Poli a plaque on the occasion of Coach Poli's induction into the Carbon County Area Chapter of the Pennsylvania Sports Hall of Fame. What was Stan's connection to Coach Poli?


a. Stan played football for Geno when Geno was head coach at Shenandoah High School.


b. Stan played football for Geno at Coaldale High School.


c. Geno served as assistant coach for Stan in 1990 when Marian High won the state football championship.


d. Stan and Geno were college roommates at New York University.

ANSWER TO QUESTION 114:
114. A is Hopalong Cassidy (William Boyd) who was not from Coaldale. B is John Berezniak, C is Tommy John Evans, D is Paul Radocha, E is Paul Sheers, and F is Tony Wargo.

114. Five of these six gentlemen are Coaldale natives who at one time or another served as either Sheriff or Deputy Sheriff of Schuylkill County. Which one of the six was not a Sheriff from Coaldale?
ANSWER TO QUESTION 113:
113. Marianne Smith and Judy Trubilla, both CHS Class of 1963

113. The third and fourth dancers from the left are Coaldale girls who became CHS majorettes.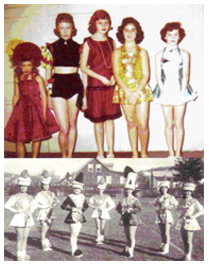 The majorettes (left to right) are: Elizabeth Stanalis, Theresa Kachurak, Marianne Smith, Beverly Roncek, Judy Trubilla, Sylvia Yencha, and Janice Makovec. Name the two dancers.
ANSWER TO QUESTION 112:
112. The Manager of the 1946 Coaldale "Black Sox" was "Buck" McIntyre. Players included: Attilio Salvador, Andy Semko, Mike Herb, "Flatty" Klepic, "Bud" Popik, "Punjab" Hedash, "Hack" Heisler, Steve Martinec, "Lefty" Bowden, "Goosey" Sotak, "Windy" Macenka, Matt Welsh, Cal Mock, Ed Yelito, "Muffy" Polansky, Al Zummers, Ed Maraschak, and Evan Sneddon.

112. These are the officers of the Coaldale West Ward Rod and Gun Club sometime in the 1940s.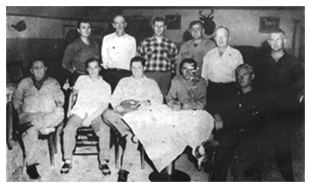 Seated (left to right) are: Dick Mitchell, Joseph "Jiggs" Sweeney, John "Butch" Harvey, Louis Slakoper, and William Miller. Standing (left to right) are: George Makovec, Wendell Phillips, Cal Herring, John Gaydos, Paul Pobuda and Evan Sneddon. Around the same time that this photo was taken, Evan Sneddon was also a member of a semi-pro baseball team named the Coaldale "Black Sox" which won the Carbon-Schuylkill League title in 1946. Name the Manager of the Coaldale "Black Sox." Bonus question: Name the Coaldale "Black Sox" players.
ANSWER TO QUESTION 111:
111. d. The Georgia Bulldogs

111. The right-hand bottom photo in this collage of Coaldale's George

Welsh shows the coach receiving the winner's trophy after the 1995 Peach Bowl game in which his Virginia Cavaliers football team defeated what team by a score of 34-27?


a. Notre Dame
b. Penn State
c. Virginia Tech
d. Georgia
e. Georgia Tech

ANSWER TO QUESTION 110:
110. Both a and b. Bob Scutta has informed us that both Reds Balazovich and Billy Balazovich have verified that Coaldale at one time had a total of 3 traffic lights at the corners of Water Street and First, Second, and Fifth Streets.

110. This photo, taken in 1954, shows a group of coal miners picketing near the entrance to Number 8 Breaker at the corner of First and Water Streets in Coaldale. Notice the traffic light in the photo. Coaldale has no traffic lights today, but at what other corner (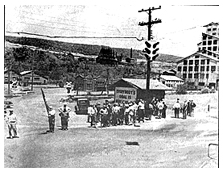 or, corners) was (or, were) traffic lights located in Coaldale during the 1940s/1950s?


a. at the corner of Second Street and Water Street


b. at the corner of Fifth Street and Water Street


c. at the corner of Sixth Street and Phillips Street (Buffy's Corner)


d. at the corner of Second Street and Phillips Street (Henry's Corner)

ANSWER TO QUESTION 109:
109. Bob "Wick" Winsko

109. This speedy Coaldale halfback, who is surrounded in the photo by a gang of Lansford Panthers,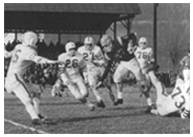 once returned the opening kickoff versus Schuylkill Haven for an 88-yard touchdown run and played a major role in the Tigers' football success in the 1960s. His older brother Joe was also a great running back for the Tigers and his younger brother Michael also starred as a speedy running back for the Panther Valley Panthers. Name him.
ANSWER TO QUESTION 108:
108. Tom Raymer was the head Coaldale coach for 25 games from 1924 thru 1948, with a record of 14-8-3. Ken Millen was the head Lansford coach for 16 games, with a record of 6-8-2. Versus Coach Millen, Coach Raymer was 8-6-2.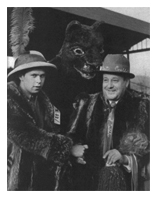 108. This is Coaldale's Frank Kassak (in the Ramar hat) and Lansford's Michael Kaly standing with Lansford's Dennis Cipko (in the panther suit) just prior to the final Lansford-Coaldale game in 1963. The Lansford head coaches over the 42-year rivalry between the schools were: Joe Garland, Harry Rote, Ken Millen, Tony Denby, Harry Hinte, Al Klotz, John Chuckran, Armando DeMichele, Dick Forester, and John Harkins. The Coaldale head coaches were: Irv Murphy, Tom Raymer, Andy Kalen, Bob Wear, Tom Leonard, Bill Roller, George Greiner, and Geno Poli. Who served the most games as head coach in the rivalry for both Coaldale and Lansford?
ANSWER TO QUESTION 107:
d. Dan Ziegler

107. This is a badge worn by the Coal & Iron Policemen who were hired by the mining company to patrol and protect the premises around the mines. Which of the following Coaldale gents was at one time a Coal & Iron Cop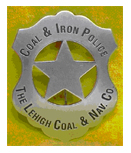 a. Paul "Moocho" Kovach


b. Basil Adamitis


c. Jimmy "Punk" McHugh


d. Dan Ziegler

ANSWER TO QUESTION 106:
106. f. All of the above.

106. Ed Kassak is the only Coaldale Tiger ever to have played in the prestigious Big 33 Football game. The program cover of the 1963 Big 33 game in which Ed played is shown here along with the photo of Ed that appeared in the program. Following this game, Ed continued his football career at the University of Rhode Island and for the U.S. Navy's semi-pro team, the Pensacola Goshawks.

Which of the following players also played in a Big 33 game and then went on to play football in college/and or the pros?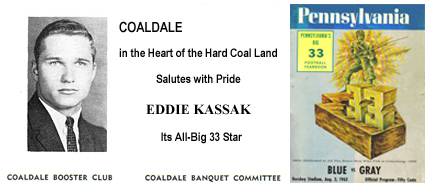 a. Raghib "Rocket" Ismail

b. Joe Jurevicius

c. Lavar Arrington
d. Dave Wannstedt

e. Ben Roethlisberger

f. All of the above